Patricia Green: Liberating the captives
Posted by
admin
on May 10, 2011 in
HOPE.II
|
Warning
: count(): Parameter must be an array or an object that implements Countable in
/home/phountain/apps/hopetalks/wp-includes/class-wp-comment-query.php
on line
399

Warning: count(): Parameter must be an array or an object that implements Countable in /home/phountain/apps/hopetalks/wp-includes/class-wp-comment-query.php on line 399
0 comments
Warning
: Illegal string offset 'class' in
/home/phountain/apps/hopetalks/wp-content/themes/eVid/epanel/custom_functions.php
on line
78
Warning
: Illegal string offset 'alt' in
/home/phountain/apps/hopetalks/wp-content/themes/eVid/epanel/custom_functions.php
on line
79
Warning
: Illegal string offset 'title' in
/home/phountain/apps/hopetalks/wp-content/themes/eVid/epanel/custom_functions.php
on line
80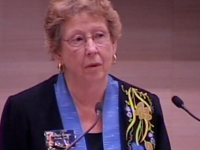 A seasoned human rights activist against human trafficking in both Asia and Europe describes the global trade in which 16000 mainly women and children are sold for exploitation. Patricia, now based in Berlin, tells her audience at HOPE.II to 'look beneath the surface'.
Warning
: count(): Parameter must be an array or an object that implements Countable in
/home/phountain/apps/hopetalks/wp-includes/class-wp-comment-query.php
on line
399
Leave a Reply
You must be logged in to post a comment.